The accurate cataloguing of plant species is a vital component of botanical research and education. Physical catalogues, though, come with an obvious disadvantage: they're hard for most people to access. Electronic databases allow everyone to search for specimens, but are reliant on two-dimensional images that don't fully represent the species in question.
A team led by Dr David Lau Tai-wai, Curator of the Shiu-Ying Hu Herbarium, part of the School of Life Sciences at The Chinese University of Hong Kong (CUHK), is tackling that problem head-on with the Virtual Carpological Herbarium of Fruits and Seeds, an innovative 3D database of plant specimens. It takes a photogrammetric approach to cataloguing the specimens, which means using a large number of 2D images to create a 3D model of them that reflects their genuine structures, sizes and colours. Researchers can access the virtual herbarium without needing additional software, rotate the models through 360° and magnify them at will, allowing them to observe even the finest details. The database has a wide range of applications, from plant identification to conservation. Details of the herbarium were recently published in the scientific journal PLOS One.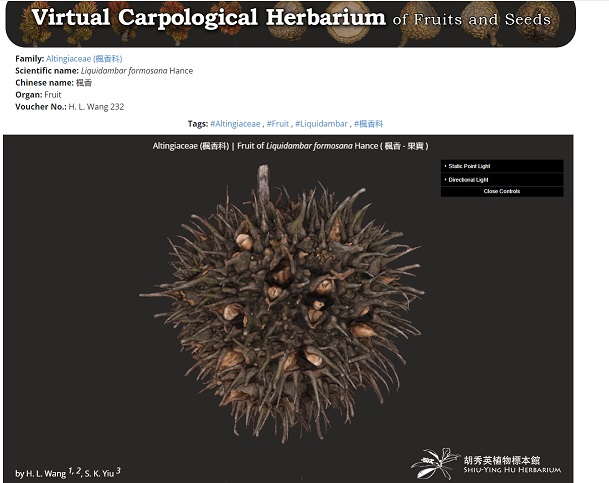 "This project demonstrates the feasibility of applying advanced technologies in botanical research," says Dr Lau. "Even if a specimen is only 3mm in diameter, we can easily inspect it with very clear magnification, up to 50 or even 100 times, from all viewing angles. It really mimics putting the real objects in your hand."
Dr Lau received his MPhil and PhD from CUHK, focusing on Chinese medicine authentication and pharmacology. He then moved into plant taxonomy, and specifically plant authentication, with the encouragement of legendary botanist Professor Hu Shiu-ying, and started working at the herbarium in 2013.
The idea for the virtual herbarium, and particularly the photogrammetric approach, came from an unusual source. In 2017, Dr Lau visited South Korea, where he discovered a tourist attraction that got him thinking. It involved more than 100 cameras, which would take photos of a tourist standing inside a special chamber, using them to build a 3D miniature of that person. He realised that while such 3D techniques are commonly used, they'd never been widely applied to botanical research, and 3D databases of authenticated plant specimens simply didn't exist – so he set about creating one.
"We researched almost all types of scanning methods, and even bought some ready-to-use hardware for scanning. Later, we used various combinations of camera body and lens, and finally figured out the best combinations for various sized images, from 3mm to 30cm. The minimum size using other techniques is only about 3cm, so this is a unique feature of our platform."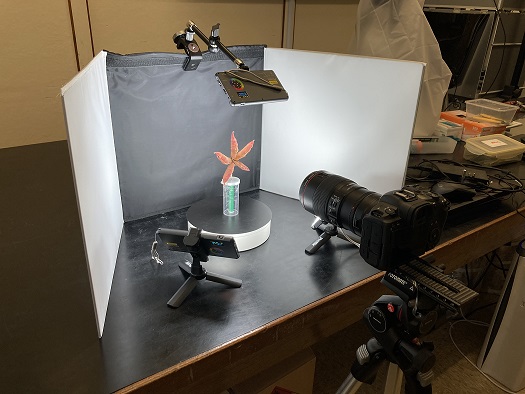 Dr Lau and his research team, which also includes first author of the publication and researcher Mr Wang Ho-lam, education manager Mr Wong Tin-hang, and researchers Mr Chan Yiu-man and Cheng Yat-sum, spent two years building the database. It features 300 species, about 200 of them native to Hong Kong. Each model was built from an authenticated voucher plant specimen using about 90 to 100 photographs, in a process that took about one and a half to two days per sample. Those voucher specimens will be permanently stored in the archives of the Shiu-Ying Hu Herbarium.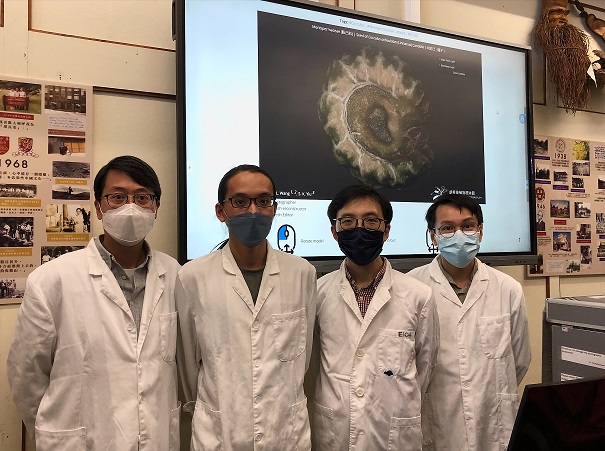 "Users, including the general public, teachers and students, can see the virtual herbarium from anywhere. We don't need to bring the specimens to their classrooms. This method saves plant resources, because we don't need to collect so many samples for display or lectures."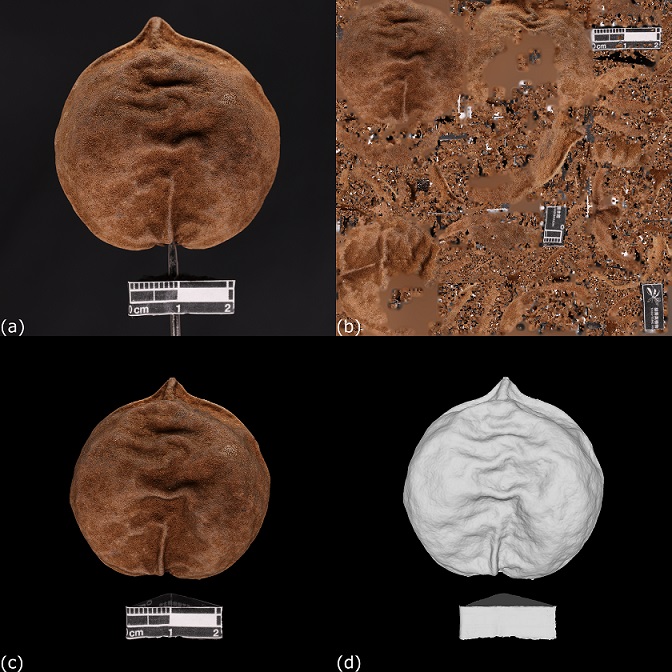 The biggest challenge, he adds, was dealing with specimens with semi- or fully transparent structures, very tiny hairs or spines, or very thin layers – which sometimes couldn't be recreated using a 3D model, something he says the team is working on.
Time and money are also issues. It's a labour-intensive business to collect, process and scan specimens. However, he is hoping to add all of Hong Kong's native species to the database – about 2,000 in total. He estimates the project will take about 10 years.
"Some are medicinally important species recognised by the Chinese Pharmacopoeia. Some species are good for plantation and reforestation. We strongly believe that this database can significantly assist in local plant authentication," he says. "We have published the methodology for creating these 3D models, and we hope to set an example for other botanists and herbaria to establish their own 3D databases."
To explore the 3D models, please visit the website.