Good use of the wrists and arms can give easier control of the strokes of the bow to play beautiful and harmonic violin music. However, learning the violin can be a tough discipline for an able bodied person, let alone an arm amputee. Mr. Roy Shum, now in his forties, lost his lower left arm in a traffic accident years ago, but retained his enthusiasm for life with the violin and has always dreamed of showing his talent in performance. However, the prosthetic Roy used at the beginning limited the scope of the strokes he could make with the bow, which made it difficult for him to play a wider repertoire. Then he met the robotic arm expert, Professor Darwin Tat-ming Lau, and the two hit it off. Professor Lau voluntarily developed a violin bow prosthetic that allows Roy to play the violin with ease, and he was later invited to perform in a concert given by an orchestra of a thousand players held in Hong Kong that broke a Guinness World Record in 2018. It was a moment for Roy to shine before an audience.
Roy had undergone amputation in 2003 after a serious injury, and was at a low ebb for seven years before regaining interest in sports such as swimming, table tennis and triathlon. In 2014, Roy even challenged himself to learn the violin on the recommendation of his friend. The hospital first offered Roy a prosthetic with a simple tool which could clamp the bow, but it was difficult for Roy to make bow strokes smoothly. Approached by Roy's attending doctors from the Department of Orthopaedics and Traumatology at Prince of Wales Hospital in 2017, Professor Lau, an assistant professor in the Department of Mechanical and Automation Engineering, The Chinese University of Hong Kong (CUHK), was able to voluntarily develop a violin bow prosthetic to realise Roy's dream.
Professor Lau is keen on applying robotic arms in different fields, including cable-driven robots used for wiping windows, architectural purposes, and mechanical prosthetics. As a violin enthusiast, Professor Lau understands that playing the violin requires precise and agile movements, which is a huge challenge for amputees, especially for Roy who uses his left arm to hold the bow. A prosthetic which can stabilise the arm and allow a wider adjustment angle is important. So, Professor Lau and his students developed a tailor-made prosthetic for Roy in their spare time to allow him to handle the bow with ease. Professor Lau said, "We initially attached a piece of iron to the prosthetic with a binder clip to hold the bow, but it could hardly stabilise the bow. It easily got loose when playing it. This prompted us to make good use of 3D printing and computer modeling technology to develop a prosthetic device with a convertible adaptor to replace the clip for a better stabilising effect. It finally allows Roy to play the violin up from one third to two thirds of its scope, giving him a wider repertoire."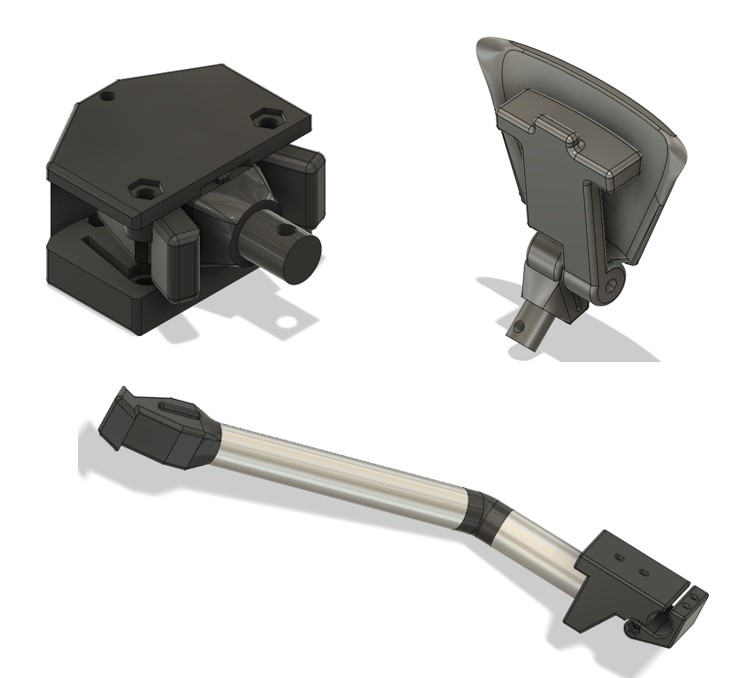 The new design is equipped with a custom made "adapter" which is firmly screwed to the stump and then grips a readily available "tool" of daily life for users to carry out a task; for example, a clip used for stabilising the violin bow or picking up small items, and a spatula or spoon used for cooking. Earlier, Roy tried an advanced version of the prosthetic with a spatula for cooking and said with a smile, "When my two daughters were young, I rarely had the opportunity to take care of them. I hope I can cook a meal for them later." Now, the team is developing a new tool which can help Roy to hold the ingredients with his prosthetic while using his right arm to cut them up.
Apart from Roy, Andres, a 7-year-old boy who was born with no fingers but a passion for sport, also benefited from the prosthetic developed by Professor Lau's team. In 2019, under the referral of an orthopedic surgeon from the Department of Orthopedics and Traumatology, Faculty of Medicine, CUHK, the team made a prosthetic for Andres that allowed him to play ball games or do simple skipping like other children. The team also worked with the non-governmental Hand-in-Hand Association in helping young kids to skip ropes and ride bikes by using the prosthetics, bringing the University's research into the community.
The design of traditional human arm-like prosthetics focuses on the appearance rather than its practicality. When it comes to including multiple functions in one prosthetic, it becomes complicated and expensive. Professor Lau believes that a function-based prosthetic is more practical and cost-effective and that is why they take "function" as the primary consideration. He said, "3D materials are lightweight and low-cost, which is good for making prosthetics. Even if the prosthetics are damaged, it only costs a few dollars for printing. At such a low price, they can even be regarded as consumables."
The team is looking forward to installing more flexible and precise movement by adding a motor onto the prosthetic. If possible, they hope to even make automated adjustments to angles by tracking users' movements. "With the increasing popularity of 3D printing, we hope to develop an online library system where different design drawings of prosthetics are uploaded for those in need who can come from different regions to download and print. This will be especially helpful to reduce the financial burden on amputees and extend this multi-functional and low-cost design to a wider application," Professor Lau added.