One small cell transformed, one giant leap forward in the fight against cancers. Recent years have witnessed revolutionary progress in cell and gene therapies in treating or preventing diseases. However, the high price tag is barring patients in Hong Kong from receiving these life-saving cures, and the fact that most are manufactured overseas also makes the process slow and uncertain. Many patients have died while waiting for treatment.
The upcoming Advanced Therapy Products (ATP) Good Manufacturing Practice (GMP) Centre is about to change that. Led by The Chinese University of Hong Kong (CUHK), in collaboration with Hong Kong Science and Technology Parks Corporation (HKSTP), the ATP GMP Centre will be the first such installation in Hong Kong and a critical addition to the city's biotech infrastructure.
The state-of-the-art facility, operated by CUHK's Hong Kong Institute of Biotechnology, will offer researchers more than 3,800 square feet of PIC/S GMP standard facilities to help accelerate clinical trials and commercial-scale production of advanced therapies. The manufacturing processes are fully customisable and scalable to support researchers' needs, and the suites and labs are designed to support multiple stages of clinical development. Staffed with an expert team specialising in translating academic cell and gene therapy protocols into products, the centre will be a gatekeeper that ensures products' quality and safety are on a par with global standards.
When it comes to manufacturing pharmaceutical products, maintaining clinical-grade, aseptic conditions is the primary objective. At the ATP GMP Centre, there are six operationally segregated Grade B and Grade C clean rooms providing a sterile environment, as well as validated production and analytical equipment. Each is centrally supplied with synthetic air, carbon dioxide and nitrogen to meet the manufacturing needs of various products.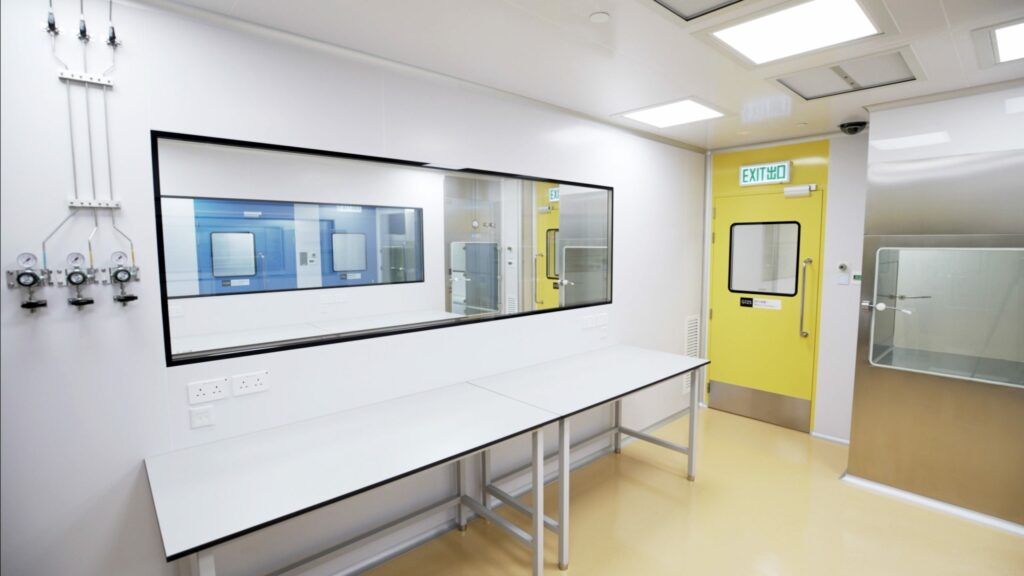 Officially opening in June, the centre will dive straight into its debut project – producing the first "made-in-Hong Kong" anti-CD19 Chimeric Antigen Receptor (CAR) T-Cell therapy, a highly effective treatment against blood cancers. This phase two clinical trial will target patients with relapsed or refractory CD19+ acute lymphoblastic leukemia and non-Hodgkin's lymphoma. The medical team will collect white blood cells (leukocytes) from patients' blood. Patients' leukocytes will be transported to the ATP GMP Centre for T cell isolation and genetic modification to become CAR T-cells. Then the CAR T-cells will be sent back to the hospital where the clinicians will reinject these modified cells back into the patients' bodies. These cells are designed to detect a specific antigen called CD19 and activate an immune attack to destroy the cancer cells.
Once CAR T-cells can be manufactured locally, it will shorten the production time from several weeks to just 12 days, increasing patients' chances of survival. Plus, the cost can potentially be reduced by a third. Currently, the CAR T therapy available in Hong Kong costs HK$2.8 million for a course of treatment.
The establishment of the ATP GMP Centre represents a milestone in Hong Kong's biotechnological development. It will be a driver for translational medicine research and a training ground for biotech talents. More patients will soon benefit from improved access to advanced and diverse treatment solutions in Hong Kong, the Greater Bay Area and Asia.