The Chinese University of Hong Kong (CUHK) is embarking on an exciting venture in academic and scientific collaboration with the introduction of four pioneering centres. These centres – the internationally accredited CU-Med Biobank, the S.H. Ho Research Centre for Infectious Diseases, the Beijing Centre and the Shanghai Centre – are set to strengthen research development and foster academia-industry collaboration across Hong Kong, Greater China and the Asia-Pacific region. These new initiatives reflect CUHK's commitment to innovation, biomedical advancements and collaboration.
A leap forward in biomedical research: CU Medicine's internationally accredited biobank
The CU-Med Biobank, established by the Faculty of Medicine (CU Medicine) in 2019, has recently achieved the prestigious ISO 20387:2018 accreditation. Located at the Prince of Wales Hospital, this state-of-the-art facility is one of only two biobanks in the Asia-Pacific region to meet this stringent international standard. With the capacity to store one million vials of biospecimens across its 21 freezers, the biobank is poised to attract pharmaceutical companies to Hong Kong for drug research and clinical trials, positioning the city as a vital hub for new drug development in Asia.
The wealth of data and biological samples stored at the biobank have tremendous potential to facilitate large-scale genomic research and accelerate advancements in precision medicine. Notably, CU Medicine's research teams have already achieved significant milestones through the CU-Med Biobank, including building a dedicated Breast Cancer Biobank and conducting genomic studies in breast cancer, diabetes and the gut microbiome.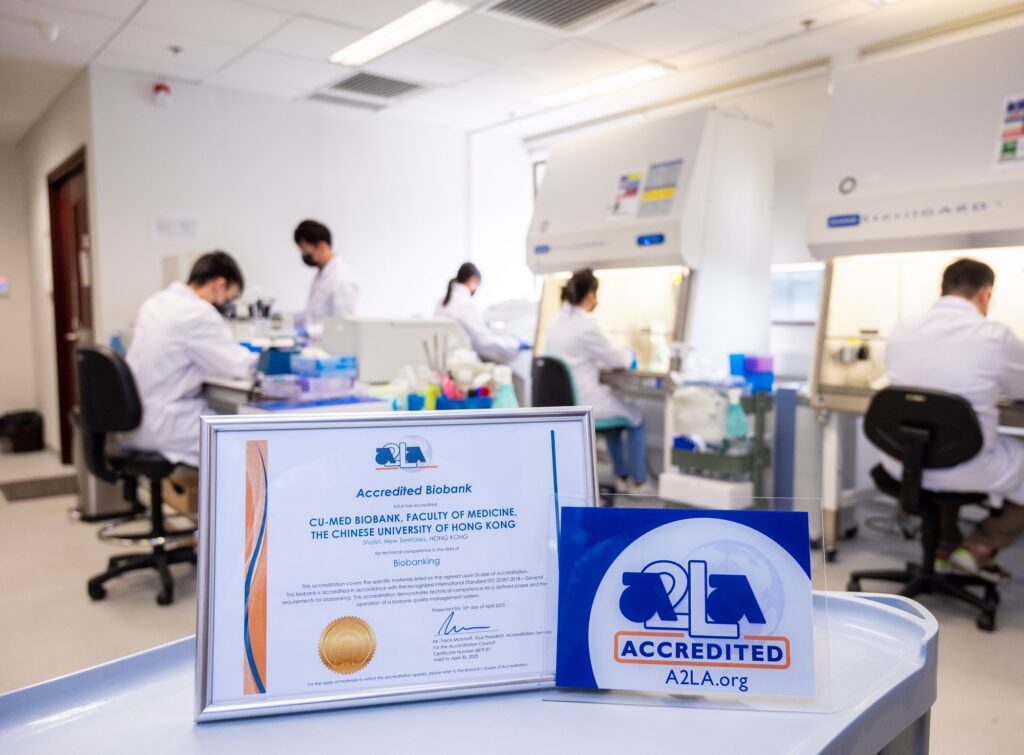 Battling contagious diseases: the S.H. Ho Research Centre for Infectious Diseases
As part of the ongoing battle against contagious diseases, CUHK has established the S.H. Ho Research Centre for Infectious Diseases, an advanced facility dedicated to studying and combating them. It aims to bring together researchers from CUHK with local and international health professionals to collaborate on finding innovative solutions to pressing health challenges. With a focus on critical topics like COVID-19, influenza, emerging respiratory infections, HIV and Mpox, the centre is designed to serve as a dynamic hub for cutting-edge infectious disease research, aiming to improve public health practices and control the spread of infectious diseases in Hong Kong.
Bridging Mainland China and Hong Kong: CUHK's Beijing and Shanghai Centres
The University's newly inaugurated CUHK Beijing Centre and CUHK Shanghai Centre stand as important milestones in the University's network of collaborations on the mainland.
The Beijing Centre, which opened in June this year, is strategically positioned to serve as CUHK's liaison hub in Beijing. It hosts forums, seminars and academic activities to enhance academic exchange, foster scientific research cooperation, and deepen partnerships between industry, universities and research institutions. With the addition of the Shanghai Centre in August, CUHK is poised to create a comprehensive network across mainland China that promotes interaction and cooperation across sectors, connecting China with the world.
Furthermore, CUHK has signed Memorandums of Understanding (MoU) with the Beijing Municipal Bureau of Talent and the National Torch Academy of Innovation and Entrepreneurship (Zhongguancun) promote cooperation projects and facilitate knowledge transfer between Beijing and Hong Kong. Additionally, CUHK has signed a cooperation agreement with Shanghai's Yangpu District to incubate its innovative projects at InnoPort@Shanghai.