Shellfish is one of the most common food allergies, with shrimp being the most frequent offender causing anaphylaxis. Not only do shrimp allergy patients have to pay attention to their diet, but they may also experience severe allergic reactions such as throat swelling, dizziness, loss of consciousness and shock. However, the conventional diagnostic approaches are not accurate and many patients have been misdiagnosed as shrimp-allergic. A research team from The Chinese University of Hong Kong's (CUHK) Faculty of Medicine (CU Medicine) has proven that the basophil activation test (BAT) on individual blood samples has a much higher diagnostic accuracy for shrimp allergy than conventional allergy tests.
"Shrimp allergy typically lasts a lifetime, but many patients do not experience their first allergic reactions during their childhood. Patients are often exposed to stimulation which triggers severe allergies without knowing it. Therefore, it is vital to develop a reliable and accurate diagnostic method for shrimp allergy patients," said Professor Ting Fan LEUNG from the Department of Paediatrics.
20-year-old shrimp allergy patient Hiu Nam has been suffering from shrimp allergy since the age of 16 when she first experienced a severe allergic reaction to shrimp leading her to breathe with difficulty and even go into shock. Since then, Hiu Nam has undergone a tremendous change in her daily life, such as paying extra attention to the ingredients in her diet. The unpredictability of a severe allergic reaction also puts her under great pressure.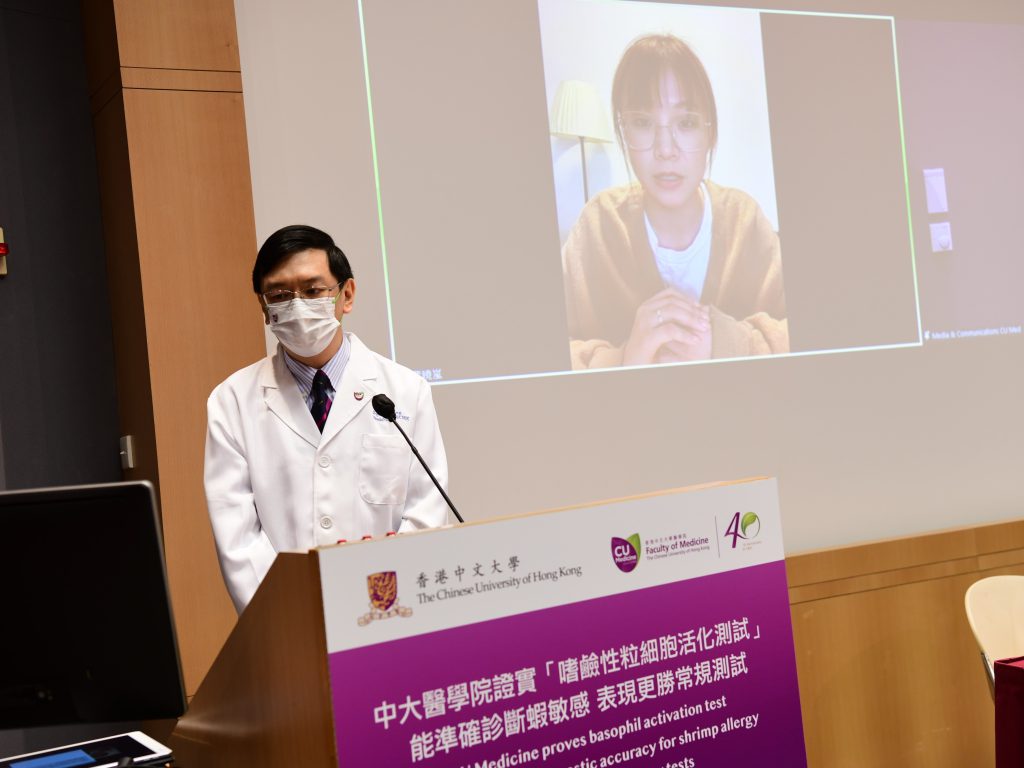 Limitations of conventional diagnostic approaches
According to Dr. Agnes Sze Yin LEUNG, Assistant Professor of the Department of Paediatrics, there are several conventional tests for shrimp allergy, but each of them has its limitations. For example, the use of shrimp extracts for the skin prick test and measurement of the blood level of shrimp-specific IgE antibody are known to have insufficient diagnostic accuracy, leading to misdiagnosis. While "double-blinded, placebo-controlled food challenge" is the gold standard for shrimp allergy diagnosis, it is risky, labour intensive and expensive. Therefore, it is not widely adopted in the market.
The BAT analyses the cellular response of a type of white blood cells called basophils in the patient's blood sample using a flow cytometer and the research team has found that it is a more accurate diagnostic method for shrimp allergy. Unlike the conventional tests, the BAT is applicable to all subjects and results will not be affected even if the subject has taken an antihistamine before the test.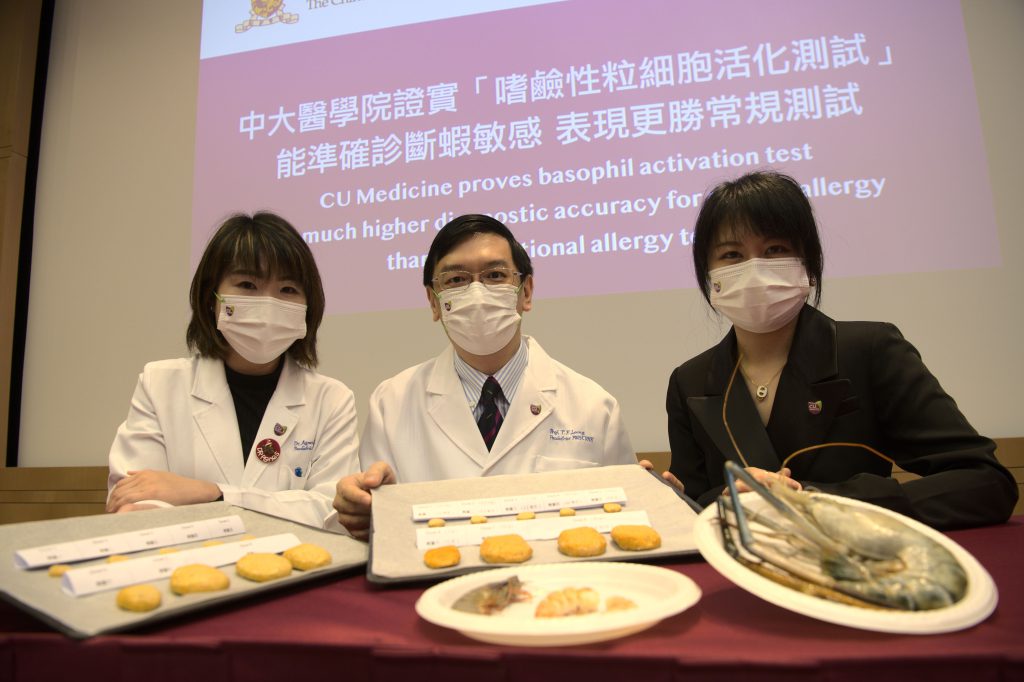 BAT is a superior diagnostic test with high sensitivity and specificity
The research team recruited 35 participants, who had exhibited at least two occasions of immediate allergic reactions after shrimp consumption, to undergo the "double-blinded, placebo-controlled food challenge". It was found that 15 of them were shrimp-allergic while the remaining 20 were tolerant to shrimp. All the participants also underwent the skin prick test, specific IgE measurement and the BAT. By comparing the results from the "double-blinded, placebo-controlled food challenge", the sensitivity and specificity of each test were measured.
|   | Sensitivity | Specificity |
| --- | --- | --- |
| Skin prick test | 93% | 28% |
| Specific IgE measurement | 93% | 35% |
| BAT | 87% | 94% |
Dr. Christine Yee Yan WAI, Research Associate of the Department of Paediatrics, explained, "We can evaluate the accuracy of the test in terms of 'sensitivity' and 'specificity' meaning the probability of testing positive for diseased patients and the probability of testing negative for non-diseased patients respectively. Although the sensitivity of the skin prick test and specific IgE measurement is over 90%, their specificity is very low, indicating their low diagnostic power and tendency to false positives. By contrast, the result showed that the BAT is the only test with both high sensitivity and specificity. Therefore, performing a single diagnostic step involving a shrimp-BAT can substantially enhance the accuracy of shrimp allergy diagnosis."
Three new common shrimp allergens in the Southern Chinese population
Tropomyosin is an allergen commonly found in seafood and shellfish and it is also the most important shrimp allergen in the Western population. However, the study results showed that tropomyosin only accounted for 53% of the sensitisation among shrimp-allergic patients, suggesting tropomyosin is not the only shrimp protein causing allergy in Chinese. The research team carried out detailed analyses and has identified three new allergens related to shrimp allergy from the giant tiger prawn (Penaeus monodon). These shrimp proteins common in shrimp-allergic patients in Southern China are hemocyanin (Pen m 7), triosephosphate isomerase (Pen m 8) and fatty acid-binding protein (Pen m 13).
The study has been published in a top international allergy journal, The Journal of Allergy and Clinical Immunology: In Practice. The team has registered the three new shrimp allergens in the Allergen Nomenclature database of the World Health Organisation and International Union of Immunological Societies, while it has also patented both troponin C (Pen m 6) and fatty acid-binding protein (Pen m 13) as novel diagnostic biomarkers for shrimp allergy.