Globally, an estimated 1.5 billion people suffer from chronic liver disease, and liver fibrosis is a key feature of the condition. However, early-stage liver fibrosis has no obvious symptoms.
Professors Chen Wei-tian, Simon Yu Chun-ho and Winnie Chu Chiu-wing from the Department of Imaging and Interventional Radiology, and Professor Vincent Wong Wai-sun from the Department of Medicine and Therapeutics at The Chinese University of Hong Kong's Faculty of Medicine, and their teams, have developed "non-invasive biochemical imaging of human tissues", a technique running on standard clinical MRI scanners to detect macromolecule deposition in tissues. Since liver fibrosis is characterised by deposition of macromolecules in liver tissues, the team is investigating this promising technology for detection of early-stage liver fibrosis.
Early detection of liver fibrosis is key to timely treatment
Liver fibrosis occurs when the liver is repeatedly injured or inflamed. The excessive accumulation of collagen in the extracellular matrix of the liver will lead to the formation of scar tissues in the liver, affecting its ability to function. Early-stage liver fibrosis does not cause any detectable anatomical symptoms. Studies have indicated that liver fibrosis is reversible if it is treated at early stages. If liver fibrosis is left untreated, it can progress into cirrhosis, which is no longer reversible. Therefore, it is important to develop an effective diagnostic method to detect it early.
Currently, liver biopsy is the gold standard for the diagnosis of early-stage liver fibrosis, but it is invasive and has certain limitations. It is impractical to use liver biopsy for the screening of populations to identify early-stage liver fibrosis or for treatment monitoring that requires repeated examinations. Reliable non-invasive technologies to address this problem are therefore highly desirable.
A new technology for non-invasive diagnosis of biochemical symptoms of diseases
At the early stages, diseases often have biochemical symptoms without any anatomical symptoms, and patients do not obviously feel anything. Thus, biochemical imaging has the potential to detect diseases much earlier compared to the standard anatomical imaging methods.
The technology the team is working on showed a potential to detect the biochemical symptoms associated with early-stage liver fibrosis in a pilot clinical study. Fifty-five patients were recruited in this study at the Prince of Wales Hospital in Hong Kong, with 22 of them having no liver fibrosis and 33 having early-stage liver fibrosis. The team is now planning a multi-centre clinical study to further investigate the application of this technology in the diagnosis of early-stage liver fibrosis.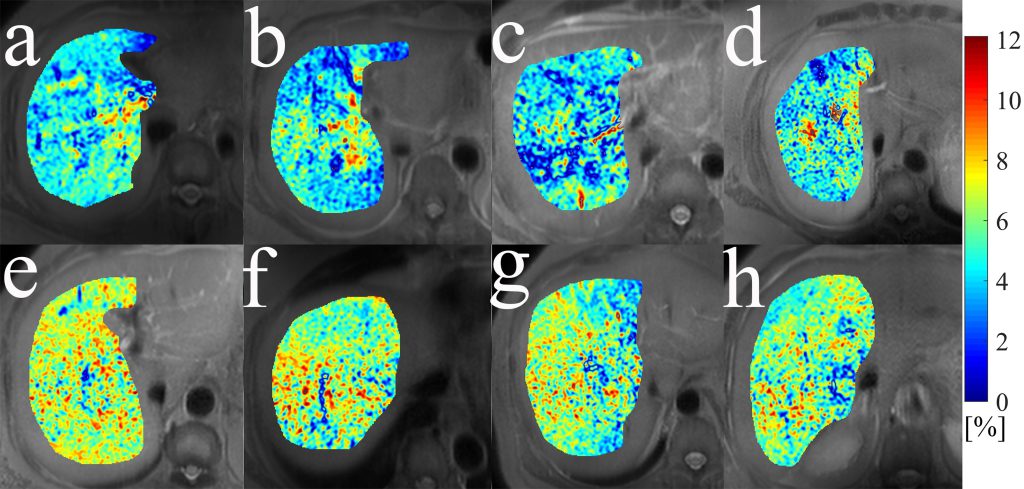 Professor Chen said, "Our technology is non-invasive, has no ionised radiation, and does not require any contrast agent to be injected. It runs on standard clinical MRI scanners without the need for any extra hardware. It is convenient to use. It has potential for the assessment of liver and other diseases in routine clinical settings. We are carrying out more clinical studies to investigate this promising technology."
A novel technique with commercial potential
To turn this technology into a medical product, the team has formed a startup company. This novel technique has been granted a US patent and recognised by the international innovation and technology community with a Gold Medal at the International Exhibition of Inventions Geneva 2022. Helped by the Technology Start-up Support Scheme for Universities (TSSSU) at CUHK and the Incu-Bio Incubation Programme at Hong Kong Science and Technology Parks Corporation, the startup expects to introduce a convenient non-invasive diagnostic tool for doctors to assess the biochemical symptoms of diseases in the future.