From jewelry, aviation, chemistry, electronic circuit boards, to medical treatment, gold is widely used in different fields. Professor Jonathan Chung Hang CHOI from The Chinese University of Hong Kong (CUHK), an expert in bio-nanotechnology and nanomedicine, worked with his team to use gold as a core to constitute a new class of self-therapeutic nanoparticle that does not contain steroids and vitamin D analogs. This nanoparticle was demonstrated to successfully enter skin epidermal cells to treat psoriasis without causing hair loss or skin wrinkling in mice models. Clinical studies to validate its safety and efficacy on human beings are expected to be coming soon, bringing good news to sufferers of this debilitating and unsightly skin disease.
Psoriasis has no cure and affects the lives of patients
Psoriasis is a chronic, non-contagious, inflammatory disease, characterised by red patches, and thick silvery scales on the skin. Currently, psoriasis can only be controlled through treatment but not cured, and available treatments have different side effects. For example, systemic administration of immunosuppressants may harm the liver and kidneys, the application of steroids and vitamin D analogs may cause skin irritation, and ultraviolet light phototherapy may lead to skin cancer. Emerging biologics are costly and associated with increased risk of infection.
Over 125 million people worldwide (approximately 2-3% of the population) are suffering from psoriasis. Mr. Ho who works in the transportation sector, was diagnosed with psoriasis over 10 years ago. His skin condition was severe, with psoriasis affecting over 90% of his body surface area and causing adverse effects on his daily activities including itching, discomfort, flaking skin, and inability to sleep. Topical treatment was ineffective due to the severe extent of his skin condition. Four years ago, he started using biologic therapy that has significantly improved his psoriasis and quality of life, but biologic therapy is expensive and imposes an enormous financial burden. Psoriasis affects not only the skin, but also patients' mental well-being and their daily activities.
Professor Choi, Associate Professor of the Department of Biomedical Engineering of the Faculty of Engineering at CUHK and his team recently developed a new class of gold nanoparticles for topical delivery to skin epidermal cells in mice and treating psoriasis, possibly a long-awaited good news to Mr. Ho and other sufferers.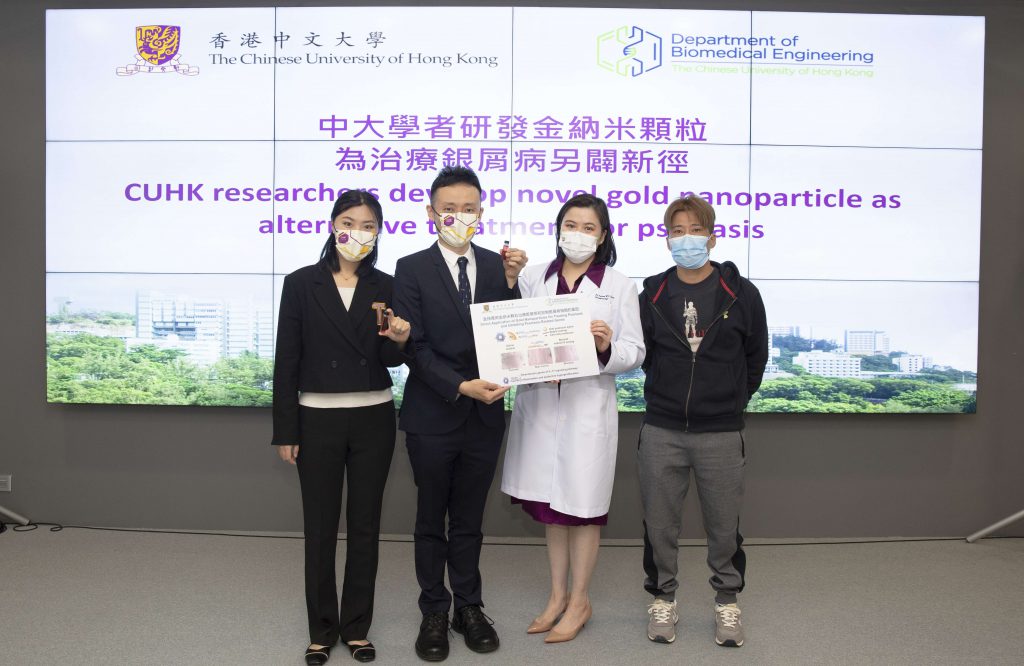 Successful drug delivery to skin cells
Researchers have developed nanoparticles to improve the delivery of drugs such as steroids or biologics to the skin when loading the drugs to nanoparticles, and reduce their toxicity. Yet these drugs may not have a sustained effect because they are easily blocked from getting into the skin epidermal cells and accumulating there. This new class of nanoparticle designed by Professor Choi gets round that obstacle. It is smaller than 15 nm, bears a 3 nm gold core and has an outer shell of polyethylene glycol strands modified with octadecyl chains. The shell prevents sweat from making the gold cores cluster, which is what works against them permeating to the epidermis, and the octadecyl chains encourage the entry of the gold cores to the epidermal keratinocytes.
In the research, the new nanoparticles were mixed with saline. A gauze was soaked with the nanoparticle solution and applied on the psoriatic skin of mice. These nanoparticles successfully crossed the thickened scales in the stratum corneum and then entered epidermal keratinocytes. As he describes it, "The size of this nanoparticle allows for its retention in epidermal keratinocytes, yet it does not accumulate in major organs, nor does it lead to long-term toxicity in skin and body."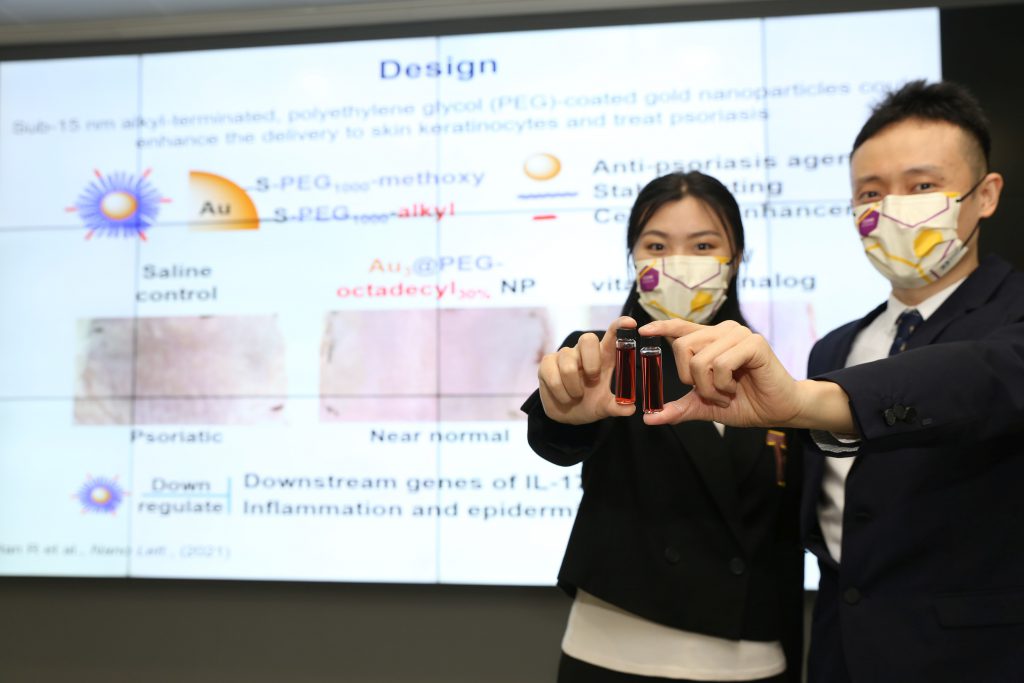 Effectively inhibiting psoriasis-related genes
Many studies have already made clear that the interleukin-17 signaling pathway is critical to the induction of psoriasis. The findings of Professor Choi's team showed that application of this new gold nanoparticle to mouse disease models during the induction period of psoriasis can suppress genes relating to the interleukin-17 signaling pathway and prevent the disease altogether. If the disease has become established, applying this new gold nanoparticle can lead to obvious improvement in skin condition and reduced scales. Its efficacy is similar to standard steroid and vitamin D analog-based therapy, but without causing hair loss and skin wrinkling. "For the first time, this study reveals the self-therapeutic value of gold nanoparticles to psoriasis because there is no need for loading steroids or biologics to the nanoparticle," Professor Choi says.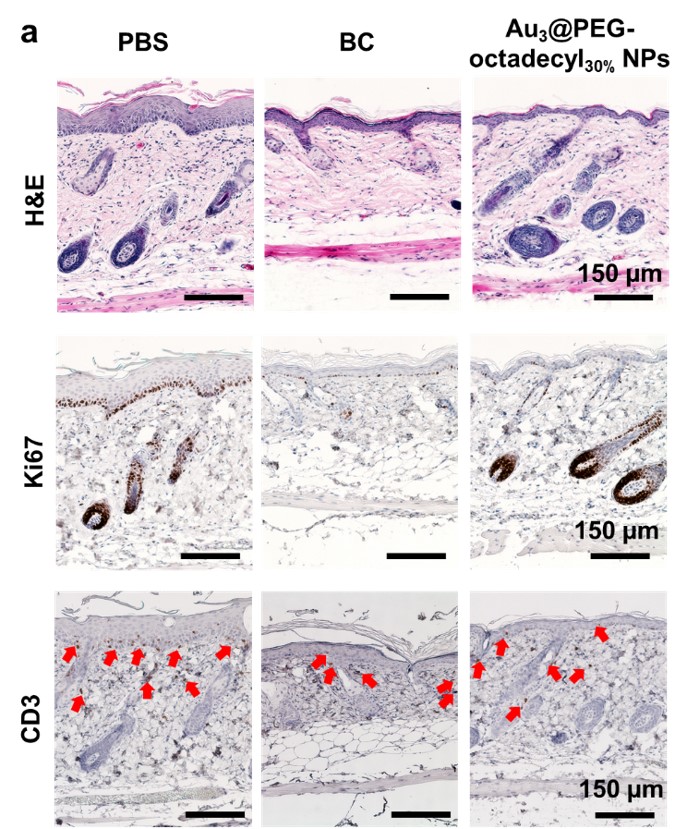 Translating research into actual applications
The team will continue to collaborate with the Faculty of Medicine at the University and perform clinical studies to validate the safety and efficacy of this new gold nanoparticle in humans. Professor Choi hopes that it can be launched on the market as soon as possible, to offer a new, safe and effective treatment for psoriasis patients. "The price is expected to be much cheaper than that of biological preparations, or similar to ointments, but we still have to discuss when it is ready for mass production," he added.
In the future, what will be the possible means of delivering the gold nanoparticle to the skin? Professor Choi sees two ways to develop it. One of them is as an FDA approved medication which may take a long time to go through clinical trials. The other is as a skincare product that is safe for human use and improving the general skin condition, so that it can be marketed sooner. Mixing with saline is the optimal method at the moment but the team is still considering other convenient ways to apply it onto human skin, without using a gauze.
Professor Choi has hopes that the gold nanoparticle can be applied more broadly to skin afflictions beyond psoriasis. "Our data indicate that this nanoparticle can downregulate multiple genes that are related to skin inflammation. We will explore its therapeutic potential for other skin diseases, such as the more prevalent eczema."
The other team members include Ms. Alisa Ruifang HAN, PhD student of the Department of Biomedical Engineering of the Faculty of Engineering, Professor Paul Cheung Lung CHOI, Honorary Clinical Associate Professor of the Department of Anatomical and Cellular Pathology of the Faculty of Medicine, and other researchers from CUHK.
The project received support from the Research Grants Council of Hong Kong, the CUHK Vice-Chancellor Discretionary Fund, Chow Yuk Ho Technology Centre for Innovative Medicine, and the Croucher Innovation Award by the Croucher Foundation. The research findings have been recently published in Nano Letters.