For the past few months, academics from The Chinese University of Hong Kong (CUHK) have been recognised by prestigious funding organisations or schemes which have extended their scientific innovation and expertise so that it can be applied towards a benign future for a wider public.
Targeting Human Pain Points
The pandemic has been ravaging the globe for more than a year. What it has taught us is to put extra emphasis on disease prevention and health.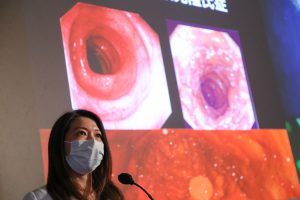 "Global IBD Visualization of Epidemiology Studies in the 21st Century (GIVES-21)" is a research project led by Professor Siew Chien Ng and Dr. Joyce Wing Yan Mak from the Department of Medicine and Therapeutics, Faculty of Medicine (CU Medicine) in collaboration with The University of Calgary and 29 industrialised countries. Its purpose is to assuage global anxiety over Crohn's disease, a life-threatening inflammatory bowel disease (IBD) that attacks the gastrointestinal tract from the mouth to the anus.
Being the first Asian research institute to be supported by The Helmsley Charitable Trust, CU Medicine has been working on uncovering the cause of IBD in the past years – one contributing factor is imbalanced gut microbiome. Earlier work by the team has revealed that restoring the balance of microbiome in the gut can hasten post-COVID-19 recovery. By receiving this grant support, the research team will further explore novel approaches of disease prevention, and therapeutic manipulation of the gut microbiome to tackle Crohn's disease and other modern epidemic diseases.
Prominent among the range of debilitating conditions that can plunge people into anxiety are cancer and aging. According to the World Health Organisation, cancer remains the second leading cause of death globally.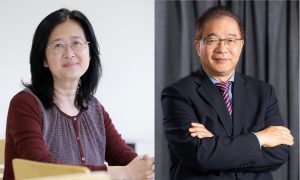 Professor Nathalie Wong from the Department of Surgery and her strong research team comprising investigators from several disciplines have recently set up the Centre for Medical Engineering of Molecular and Biological Probes. They aim to dive into the analytical study of cell-surface neo-epitopes in cancers extensively found in Asia including hepatocellular carcinoma, nasopharyngeal carcinoma and lung adenocarcinoma, in the hope of coming up with more effective treatment options.
Professor Ling Qin from the Department of Orthopaedics and Traumatology focuses on the prevalence of osteoporosis and bone fractures triggered by age. His team's project "Aging, Skeletal Degeneration and Regeneration" and Professor Wong's have recently received funding from the Areas of Excellence Scheme under the University Grants Committee (UGC) to realise the goal of translating innovative discovery into clinical applications.
Honouring Interdisciplinary Research
Scientific innovation is not the only domain that attracts recognition. Interdisciplinary research by the CUHK has also been awarded with praise. 10 CUHK scholars have received awards from the Research Grants Council in recognition of their research excellence, with 3 receiving the Early Career Award (ECA), another 3 receiving the Humanities and Social Sciences Prestigious Fellowship (HSSPF) and 4 being named in the RGC Senior Research Fellow scheme (SRFS) or RGC Research Fellow scheme (RFS).
To name some of those honoured, Professor Zhao Changhong from the Department of Information Engineering received the ECA for establishing a method for solving optimal power flow problem. Professor Bryan Mercurio from the Department of Law excelling in international and economic law, and Professor Poo Mu Chou specializing in Egyptology and history were awarded HSSPF. For identifying the imprecision of existing migration modelling used in urban planning, Professor Jianfa SHEN from the Department of Geography and Resource Management has been selected as an SRFS.